What is Parcelify Storefront?
Parcelify Storefront is an alternative to Shopify's Carrier Calculate Shipping (CCS) feature that will allow you to offer custom shipping rates to your customers from your shop's cart page instead of within the Shopify checkout. This is perfect for smaller online stores (0-10 orders / day) that want to setup custom shipping rates but don't require CCS.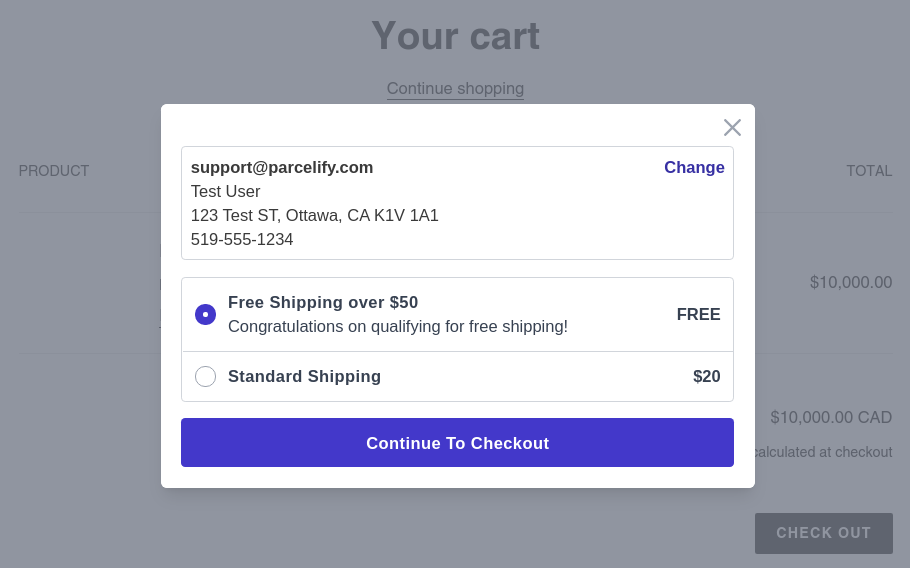 Limitations
Sales Channels
Parcelify Storefront only supports the standard Shopify Online Store sales channel as it integrates into the Online Store theme directly. All other sales channels are not supported.
Express Checkouts
Parcelify Storefront does not officially support express checkouts such as Shop Pay, Apple Pay, Google Pay or Paypal.
App Conflicts
Other third-party applications that intercept or bypass the theme's "checkout" button may not work safely with Parcelify Storefront. This may include other shipping rate applications, pickup in store plugins, or applications that allow the buyer to customize their items upon checkout.
Theme Integrations
Parcelify Storefront currently integrates with many of Shopify's themes, including the default Debut and Dawn themes. Support for most themes is an ongoing process; if you find Parcelify Storefront is not working for your theme, please contact Parcelify Support.
Multiple Location and Shipping Profiles
Parcelify Storefront works with Multiple Locations and Shipping Profiles, but rate calculation will not be calculated as multiple shipments. Instead the entire cart is used as a single rate calculation, which is often desirable when using Parcelify.
Beta
Parcelify Storefront is in beta and is currently in active development. If you find a bug or have any issues, please contact Parcelify Support for assistance.